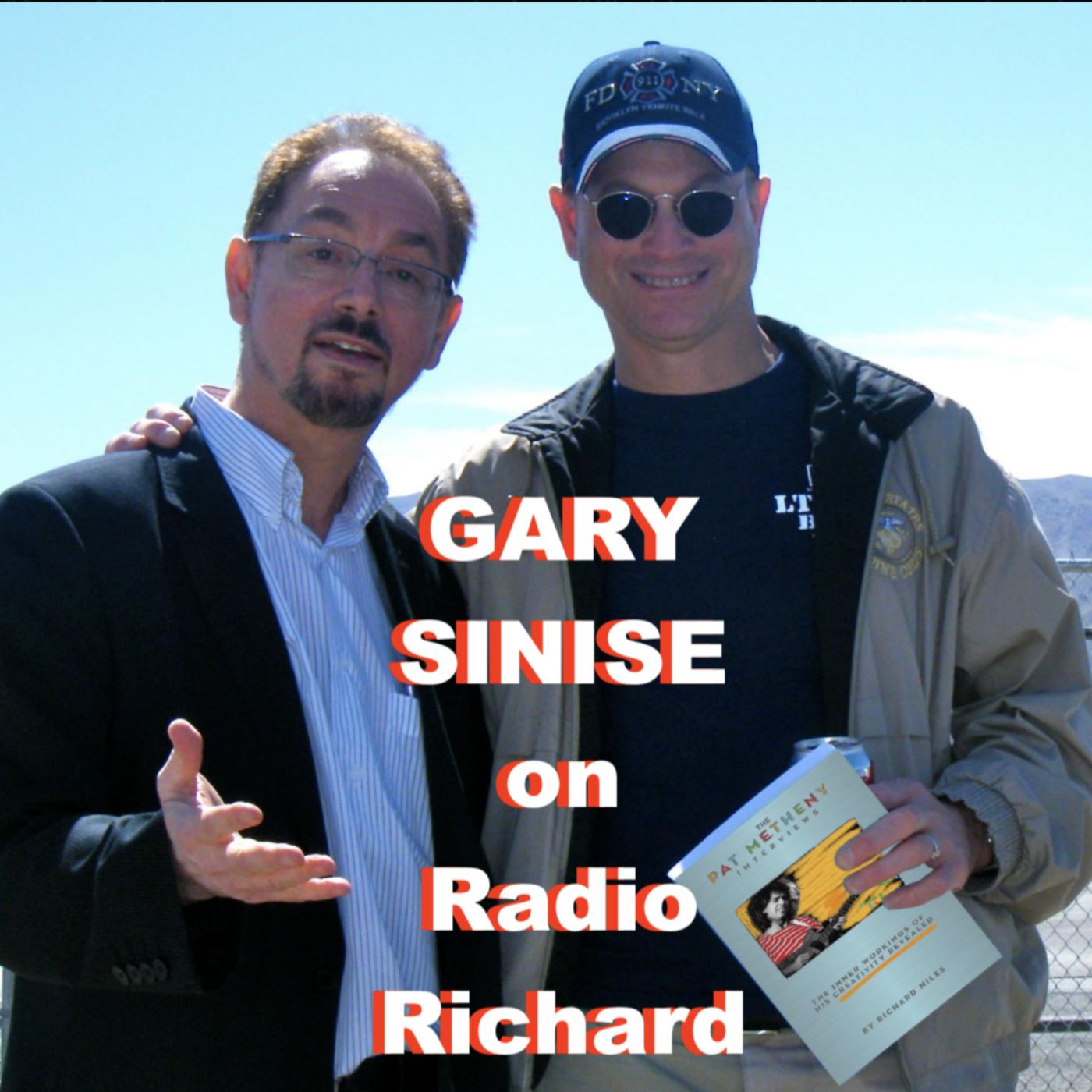 Thanks to all my Radio Richard listeners and today I have a special treat for you, my 2010 interview with Gary Sinise. star of stage and screen, well-loved for his many film roles such as Apollo 13, Forest Gump, and of course as the rugged Detective Mac Taylor in CSI: New York!!!"
It's easy to put people in convenient little boxes, but some people have more than one talent. Not only is Gary Sinise a superb actor and an actual movie star, he's a rockin', funky-butt bass player!! For this interview , I drove out to 29 Palms Marine Base in the middle of the Mojave desert. he not only talks about his acting but also shows why music is so important to him. After 9/11 he felt compelled to do something to help the soldiers risking their lives all over the globe. He formed The Lieutenant DAN BAND, a big 16-piece showband that travels all over the world bringing entertainment and a taste of home to American soldiers. On the very windy airfield in the dry but nevertheless picturesque area beloved by lizards and cacti, I asked Gary how he got his start in music.
The Lt. Dan Band is of course named after the wounded soldier Gary plays in the movie Forest Gump. The band features some great musicians including acclaimed drummer Danny Gottlieb who's played not only with Pat Metheny Group, but with John McLaughlin, Herbie Hancock and The Blues Brothers Band! I asked my old buddy Danny Gottlieb about working with Gary on this project.
You cannot get this content ANYWHERE else. SUBSCRIBE to our YouTube channel and don't miss one episode. For musicians and music lovers, THIS is the podcast that makes you laugh and think – at the same time!
LIKE this video! SUBSCRIBE to our social media!
DONATE to our PATREON!
Pretty Please!
YouTube: https://www.youtube.com/user/DRRICHARDNILES?sub_confirmation=1
Podcast: https://radiorichard.podbean.com/
Facebook: https://www.facebook.com/radiorichard2021
Twitter: https://twitter.com/radiorichard3
Patreon: https://www.patreon.com/radiorichard
GarySiniseFoundation: https://www.youtube.com/channel/UCXpGxlBYagBuRkMLm0eMgxw
#GarySinese #RichardNiles​ #RadioRichard #MusicInterviews #ForrestGump #CSINY #LieutenantDanBand #ShowBand #USO #Bassist #Rock​ #Pop #Interviews #Podcasts #Music #Podcasting​ #Podbean​ #Educational
"Radio Richard Theme" ©2021 Niles Smiles Music sung by the Free Play Duo.